Welcome everyone to the Enigma WWE 2K18 Universe Mode.
What is this?

In WWE 2K18, you can run your own version of WWE (or you own custom shows) with WWE superstars (Or again...custom ones) for WWE Championship (....or you own championships)
There may be videos of special matches/livestreams of PPV's and episodes of
Enigma Live
where I see fit.
In the "Enigma Universe", everyone is on the one show and is fighting it out for 4 championships:
* Enigma Championship - Current Champion: Jake Roberts (1)
* Enigma Womens Championship - Current Champion: Vacant
* Enigma Tag Team Championship - Current Champion: Vacant
* Broken Hardys Championship - Current Champion: Vacant
---
There will be PPV's down the line as we get to know more about it. And there is going to be feuds along the way to make things interesting.
I will be updating this thread with any updates. New Rivalries, title changes and PPV lineups.
Since I have control over pretty much every aspect on how our Universe is run, I can make decisions whenever I feel like.
So what has happened up until now?
As we have only started our Universe Mode, we have completed one match and that was to determine the inaugural Enigma Champion. This match was a 30-man Royal Rumble match in which it came down to just 5 men.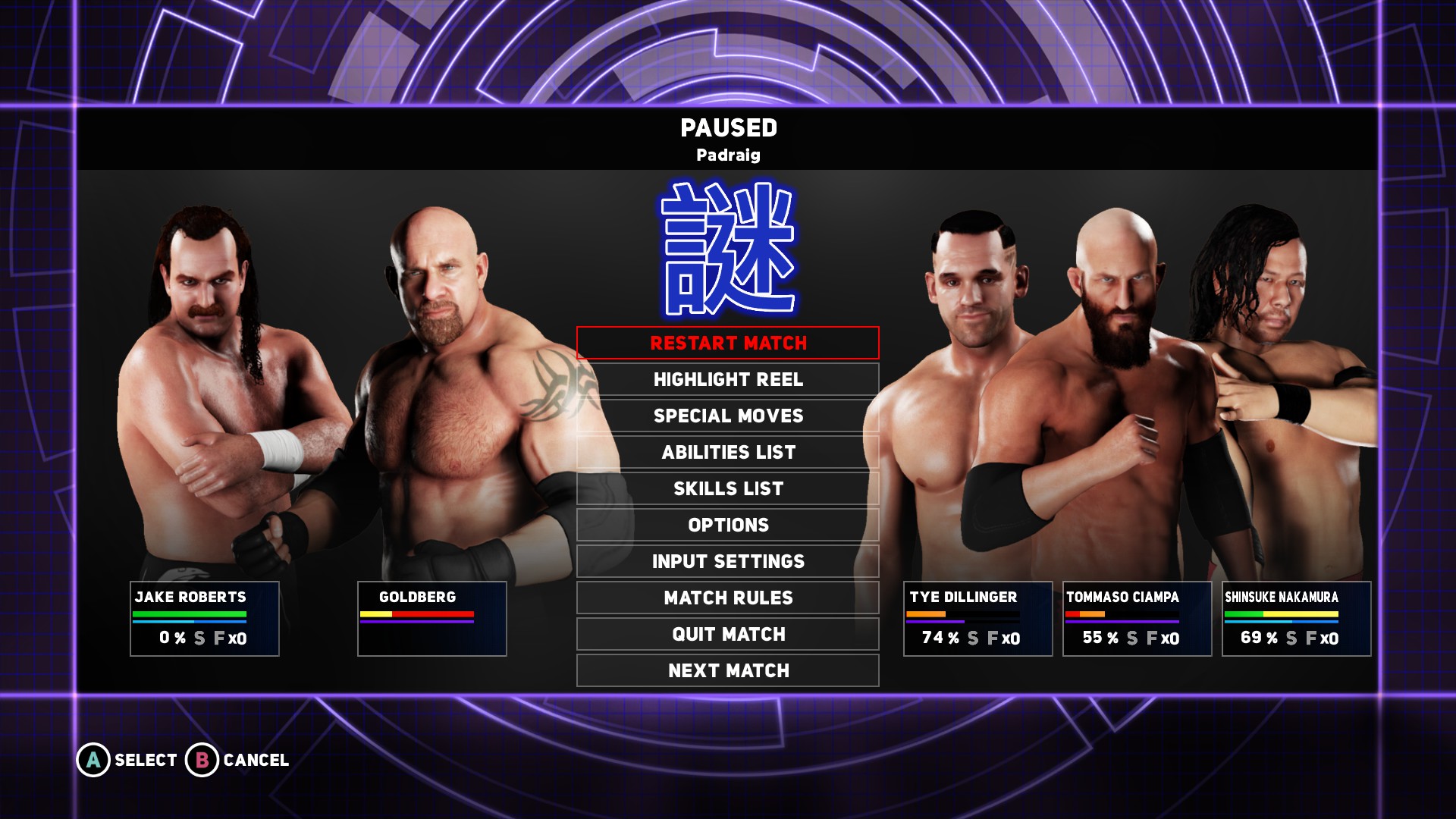 Goldberg and Tye Dillinger was eliminated a couple of minutes after each other.
Shinsuke Nakamura was eliminated by Jake Roberts and then we have a long 1v1 match between Jake Roberts and Tommaso Ciampa.
Jake "The Snake" Roberts fought very hard to stay in the ring but caught Ciampa off-guard and threw him over the top rope to become the NEW Enigma Champion!
The next post will be the results from this show and decisions on what is going to happen on the 2nd Enigma Show.
We still have a few matches in this "episode" of
Enigma Live
.
We have a 8-woman over the top rope Battle Royal for the
Enigma Womens Championship
We have 2 tag-team matches with Random Superstars split into 2 tiers
Tier A: The Undertaker & Booker T vs Chris Jericho & Roderick Strong
Tier B: The Brian Kendrick & Heath Slater vs Dash Wilder vs The Big Boss Man '91.
Winner of each Tier will face each other at the upcoming PPV for the
Enigma Tag Team Championships!

As for the
Broken Hardys Championship
, we are going to wait a bit before introducing it. We want to make that special.
Right, on we go then so!
Last edited: